Understanding Allergies: Pollen Count Information

Think you may have a pollen allergy? Whether you're suffering from a runny nose or itchy eyes, understanding more about pollen count and how it fluctuates throughout the seasons can help you to plan ahead when it comes to effectively managing the symptoms of a pollen allergy.
Learn about exactly what pollen is, as well as the causes of pollen allergies and how to best manage your symptoms.
What is pollen?
Pollen is a fine powder released by plants, trees and flowers to aid in the process of fertilisation1. Pollen grains are carried in the wind and can cause many people to suffer an allergic reaction known as seasonal allergic rhinitis (more commonly known as hay fever).
Did you know there are different types of pollen? The most common include:
Grass pollen
Tree pollen
Flower pollen
Weed pollen
Grass pollen is the biggest culprit of hay fever symptoms and tends to affect people from May to July, while tree pollen tends to be more of a problem from March to mid-May. In addition, weed pollen can be released at any time but usually covers the end of June to September2.
Of course, anyone who suffers from hay fever knows that a pollen allergy can be extremely annoying and even get in the way of your daily life. So if you know you're allergic, you may want to consider investing in hay fever tablets or other types of hay fever relief medication before pollen season starts – to help get ahead of your symptoms.
You could also try using a daily 100% natural nasal wash like PiriNatural Breathe Clean to help gently wash pollen and other irritants, such as dust, out of your nasal passages – helping to keep them clean and moisturised. And since it's 100% natural, you can use PiriNatural in addition to any other anti-allergy medication you may already be taking.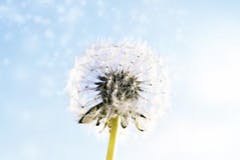 What causes a pollen allergy?
A pollen allergy is the result of your body's immune system fighting off what it thinks are harmful substances. This reaction is what causes your nose to run, throat to itch and eyes to water3. In additional to these annoying symptoms, hay fever can also cause you to feel groggy, tired or just a little off-colour, which can often make it hard to get on with your day. Thankfully, there are lots of simple things you can do to help ease and manage your pollen allergy symptoms, so you can get back to feeling like yourself again. We'll discuss these in more detail below.
In most people, substances such as pollen and other allergens are harmless and have no effect on the body. However in allergic individuals, the immune system will identify these spores as a threat, triggering chemicals like histamine. Histamine is what leads to swelling, inflammation and itching, which can feel extremely irritating and uncomfortable4.
What are the symptoms of a pollen allergy?
A pollen allergy can have multiple symptoms and their severity will depend on the type of pollen. The most common symptoms of a pollen allergy include5:
Itchy eyes or throat
Sneezing
Blocked or runny nose
Itchy, watery, red eyes
Headaches and/or blocked sinuses
Fatigue (tiredness)
Post-nasal drip (mucus running down the back of the throat)
Since pollen allergies are just another term for hay fever, you can use hay fever tablets or nasal sprays, washes and syrups to ease the symptoms. These treatment options usually contain antihistamines which are known to be effective. Plus, they are available to buy over the counter so you won't need a prescription from your doctor – however you should always consult a pharmacist before trying a new medication6.
Learn more about treatment options for allergies.
How to manage pollen allergies
Unfortunately, you can't get rid of hay fever, but being aware of the pollen count in your local area will help to make things easier when managing your symptoms. You can do this by keeping an eagle eye on your local pollen forecast. In fact, there are a number of helpful pollen charts available for the whole of the UK, or you can narrow your search down to a specific region.
Whether you're searching for pollen charts in London, the Peak District, Cornwall or anywhere else you please, you'll be able to find details of varying pollen types and pollen counts for that area.
To prepare even further for hay fever season, you could use our helpful Piri Pollen Calendar to identify the time of year that is likely to have the highest pollen count.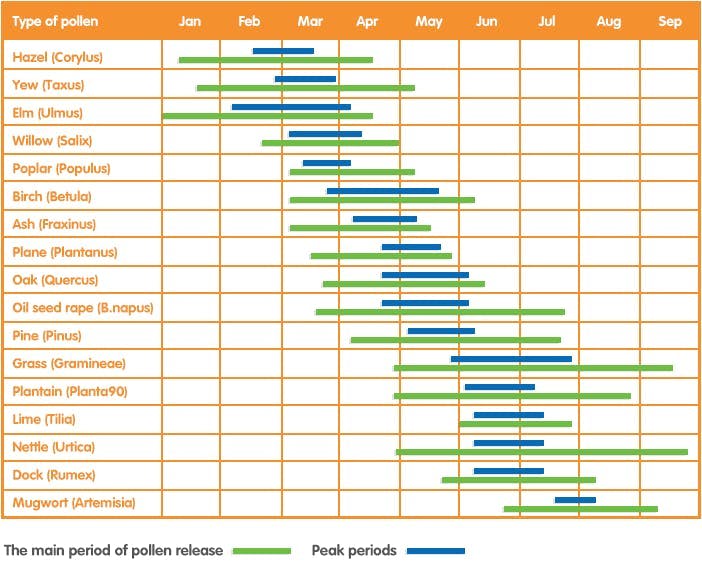 Of course, as we've noted above, there's also a wide range of over-the-counter allergy relief medications that can help to ease your symptoms – but there's some other tricks you can try too.

In addition to medication, we've created a short list of simple things you can do every day to help manage your pollen allergy during the season, including:
Using a daily natural nasal wash like PiriNatural Breathe Clean to help wash pollen and other irritants from your nasal passages.
Applying petroleum jelly around your nostrils to trap pollen.
Wearing wraparound sunglasses to prevent pollen from getting into your eyes.
Vacuuming your home regularly to minimise dust.
Changing your clothes and showering after you've been outside.
Keeping the windows and doors shut.
Staying indoors more often.
Applying pollen filters to the air vents in your car, or using a vacuum cleaner with a HEPA filters.
Learn more about different types of allergies.
Sources: Clicking any of the links below takes you to an external website that is independently operated and not managed by GSK. GSK assumes no responsibility for the content on the website. If you do not wish to leave this website, do not click on the links below.