Understanding Allergies: Hay Fever Tablets and Finding Relief

Whether you have a runny nose or itchy eyes, it's never fun suffering from the bothersome symptoms that hay fever brings. But what exactly is hay fever? You might be surprised to learn that hay fever has nothing to do with an allergy to hay. In fact, it's actually an allergy to pollen. You can learn more about how hay fever works here.
Regardless of its unusual name, hay fever (which you may also see as 'hayfever') is a growing problem. In fact, around 10 to 30% of adults in the UK report suffering from hay fever, and as many as 40% of children1.
The good news is, effective hay fever relief for children and adults is available all year round. From children's hay fever syrups and tablets, to adult nasal sprays, there are many different options to try out.
Keep reading our helpful guide to learn about the symptoms of hay fever, as well as our recommendations for the best medication and expert tips for managing hay fever.
What are the symptoms of hay fever?
Before you dive in and buy hay fever tablets, syrups or nasal sprays, it's important to understand the most common symptoms of hay fever. After all, how do you know if you have hay fever? Well, the time of year is a good start. If it's between March and September and the pollen counts are high, then your symptoms may be hay fever related2.
The most common symptoms of hay fever include3:
Itchy eyes or throat
Sneezing
Blocked or runny nose
Itchy, watery, red eyes
Headaches and/or blocked sinuses
Fatigue (tiredness)
Post-nasal drip (mucus running down the back of the throat)
One of the main differences between hay fever and a cold are that colds will usually go away after a week or two, whereas hay fever may stick around for weeks or months, even if the seasons change4. What's more, while they do share a few similarities, allergies like hay fever and common viruses often come with certain symptoms that can help you tell them apart. Check out our simple Symptomcheck comparison tool to see the key differences between allergies like hay fever, a cold and the flu.
Find out more about different types of allergies and how to manage them.
What are the different hay fever medications?
If you're already aware that you, your partner or your child suffer from hay fever, it's a good idea to plan ahead and get your hay fever tablets or other allergy relief medication sorted out before the pollen season starts.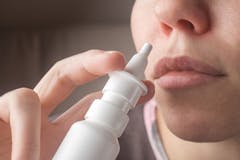 Hay fever symptoms are the result of an allergy to pollen5 and some of the most common medications for hay fever are antihistamines or a corticosteroid nasal spray. You can find out more about the Piri product range to decide which treatment will work best for you or your loved one.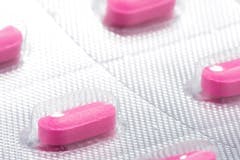 However, the bad news is that hay fever symptoms may not always die down when pollen season ends, and you may even experience the same symptoms all year round6. This means it's likely that your symptoms are caused by another allergy, so it's a good idea to invest in hay fever and allergy relief that will work effectively whenever you need it.
There are a variety of allergy treatment formats and pack sizes. Piri Allergy has a range of hay fever tablets, nasal sprays and medications that will help to manage your symptoms.
How can I manage hay fever?
While we (unfortunately) can't stop pollen season, there are still plenty of simple things you can do every day to help manage your hay fever symptoms – so that you get back to feeling like yourself again.
Beyond taking an allergy relief medication, some of the best ways you can help to reduce the effects of hay fever symptoms include7:
Using a daily natural nasal wash like PiriNatural Breathe Clean to help wash pollen and other irritants from your nasal passages.
Applying petroleum jelly around your nostrils to trap pollen.
Wearing wraparound sunglasses to prevent pollen from getting into your eyes.
Vacuuming your home regularly to minimise dust.
Changing your clothes and showering after you've been outside.
Keeping the windows and doors shut.
Staying indoors more often.
Applying pollen filters to the air vents in your car, or using a vacuum cleaner with a HEPA filter.
Discover more children's allergy tips for parents for helpful advice when it comes to managing allergy symptoms.
If you have little ones, then you can also try hay fever and allergy relief options tailor-made just for them. Take a look at the Piriton kids treatments for hay fever and other allergies, including syrup and tablets, that are useful all year round.
We also have a range of hay fever and allergy relief options for different age groups that cover an array of allergy symptoms. Find out more today.
Sources: Clicking any of the links below takes you to an external website that is independently operated and not managed by Haleon. Haleon assumes no responsibility for the content on the website. If you do not wish to leave this website, do not click on the links below.