Allergy symptoms vary from person to person depending on the allergy they suffer from. Typical symptoms of allergies are:
Sneezing
Sinus discomfort
Watery nasal discharge
Tiredness
Blocked, runny or stuffy nose
Skin rashes or hives (red and sometimes itchy bumps on skin)
Recognising your symptoms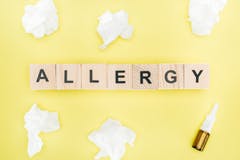 Is it hay fever, a cold or the flu?

Helping you understand your symptoms during the hay fever season.
Check your symptoms using the table below:1
Allergy, cold and flu have several things in common as they all affect the respiratory system. Match your symptoms to the table below, to help you understand if you have an allergy or perhaps a cold or the flu. If in doubt, consult your pharmacist or doctor.
Illness (Cause)
Symptoms
Airborne allergy
(Trigger/allergen)
Cold (Virus)
Flu (Virus)
Itchy & watery eyes
Common
Rare
Rare
Stuffy, runny nose
Common
Common
Sometimes
Sneezing
Usual
Usual
Sometimes
Sore throat
Sometimes
Common
Sometimes
Cough
Sometimes
Common
Common, can become severe
Fatigue, weakness
Sometimes
Sometimes
Usual
Headache
Uncommon
Sometimes
Common
General aches, pains
Very rare
Slight
Usual
Fever
Very rare
Rare
Usual