Understanding Allergic Rhinitis

What is allergic rhinitis?
There are two main types of allergic rhinitis – seasonal and perennial – and if you suffer from either of these, you're not alone. Allergic rhinitis is extremely common in both adults and children. In fact, it affects roughly 1 in 5 people in the UK.i
So, what's the difference between the two types?
Seasonal allergic rhinitis (more commonly known as 'hay fever', which you may also see as 'hayfever') is an allergic reaction that occurs at certain times of the year. And since hay fever is an allergy to pollen, it tends to flare up and cause symptoms during months when pollen from grass, trees and weeds is being shed – the spring and early summer.ii
However, seasonal rhinitis is different to perennial allergic rhinitis. Unlike the seasonal variety, perennial allergic rhinitis is a condition that causes allergy symptoms all year round. And while seasonal rhinitis is generally caused by pollen, perennial rhinitis symptoms are typically due to indoor allergens, like dust mites, pets or mould.ii
Learn more about different allergy types.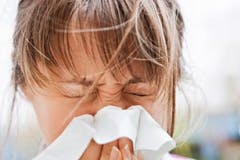 What are the signs and symptoms of allergic rhinitis?
If you have allergic rhinitis, you may start to experience some or all of these common allergy signs and symptoms soon after being exposed to an irritant:i, ii
Itchy eyes or throat
Sneezing
Blocked or runny nose
Itchy, watery, red eyes
Headaches and/or blocked sinuses
Shortness of breath
Fatigue (tiredness)
Post-nasal drip (mucus running down the back of the throat)
Of course, some of these symptoms are very similar to the ones you might get with the common cold.i If you're not sure whether your symptoms are due to an allergy or illness, check out our simple Symptomcheck comparison table. When in doubt, always consult a pharmacist, the NHS website or your GP.
Thankfully, most of us who live with allergic rhinitis only experience mild symptoms,i but that doesn't mean they don't have an effect on our daily lives. Regardless of how often they flare up or how bad they get, allergy symptoms can be extremely frustrating. At best, they can make you feel just a little off colour – but there's no need to tough your symptoms out.
Read on to discover how to treat and manage allergic rhinitis when it strikes.
Are certain people more at risk of developing allergic rhinitis than others?
Yes, there are some people who are more likely to develop seasonal allergic rhinitis than others. For example, if hay fever runs in your family, there's a higher chance that you'll have it too. People with asthma or eczema are also more at risk of developing hay fever.iii
If you do develop hay fever, it's most likely to happen during childhood or adolescence.iii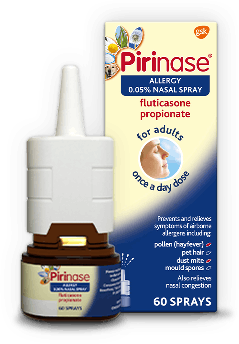 What treatments are available for allergic rhinitis?
Sufferers of allergic rhinitis will know all-too-well how frustrating and uncomfortable symptoms can be, no matter how mild. Thankfully, there are plenty of options available to help manage allergic rhinitis – and Piri is here to help.
You can get relief from your symptoms by using a nasal spray like Pirinase Allergy, designed to help combat the symptoms of common airborne allergies for up to 24 hours. Or, if you know hay fever is the culprit behind your symptoms, try Pirinase Hayfever nasal spray or Piriteze Syrup or Tablets.
They can provide effective relief against common hay fever symptoms – including itchy, watery eyes, runny nose and sneezing, with Pirinase also providing relief from nasal congestion and itchy nose.
What's more, you can start using an allergy treatment like Pirinase or Piriteze as soon as your symptoms begin. If you know pollen season is looming, you can even start treatment with Pirinase Allergy 0.05% Nasal Spray a few days in advance to help prevent symptoms from developing.
Or, if you prefer something a bit more natural, why not try PiriNatural Breathe Clean Daily Nasal Wash? PiriNatural is designed to clean, wash and moisturise your nasal passages when they become blocked during a cold or allergy – and it's suitable for all the family (aged two years or older).
Use our handy Pollen Calendar to see when pollen season is likely to start. You can also check the UK Met Office for daily pollen count information during the season.
Find all Piri Allergy products at your local pharmacy or in the healthcare aisle of your supermarket.